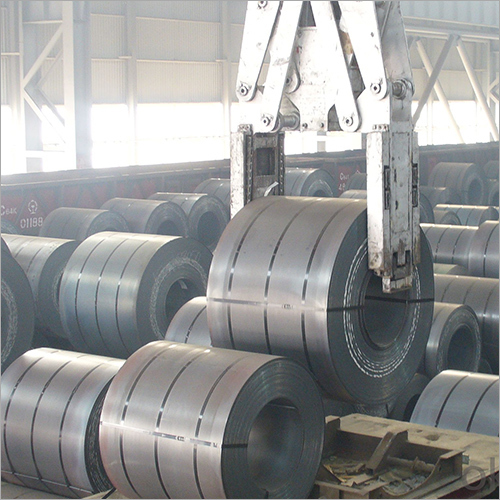 High Manganese Steel Plate
Product Description
Since our inception in year 2017, we have been engrossed in manufacturing and supplying a wide range of High Manganese Steel Plate. It is made of using quality approved carbon steel under supervision of our talented professionals at ultra-modern production unit. This steel is mainly used for making machine components, vehicle parts and construction supports. In addition to this, provided High Manganese Steel Plate can be bought from us at affordable rates.

Key Points:

Enhanced durability
Corrosion resistant surface
High tensile strength
JIS G4401 SK5 (SK-85) is a kind of Carbon tool steel(Sub-eutectoid steel )with high hardness, ductility and strength are poor, but hardenability is slightly better than the T8 and T8A. SK5 Woodworking tools used to make section,
SK-5 is the Japanese equivalent of American 1080, high carbon steel with carbon between 0.75%-0.85% and 0.60%-0.90% manganese. As quenched, it has hardness near RC 65 and produces a mixture of carbon rich martensite with some small un-dissolved carbide. The excess carbide increases abrasion resistance and allows the steel to achieve an ideal balance of very good blade toughness with superior edge holding ability. Due to these characteristics, this grade of steel has been used traditionally for making a variety of hand tools, including chisels and woodcutting saws, and has stood the test of time and use over many years in many countries.
CHEMICAL COMPOSITION OF SK-5 (SK-85) GRADE
| | | | | | | |
| --- | --- | --- | --- | --- | --- | --- |
| Steel Grade | Carbon | Manganese | Silicon | Sulphur | Phosphorus | Nearest Equivalent Specifications |
| SK-5 | 0.80-0.90 | 0.40-0.60 | 0.35 | 0.030 | 0.035 | JIS G4401 SK-5 (SK-85) |
Specifications :
HARDNESS: Generally material in this grade is stocked in fully annealed form with a hardness of 160 - 180 HV / VPN. Also as per customer's request different hardness range such as half-hard or full hard can be achieved.
ANNEALING: Heat the steel slowly to 680-710°C, soak well. Cool slowly in the furnace.
HARDENING: Heat slowly to 820-840°C and allow it to be heated through. Quench in oil, brine or water.
TEMPERING: Temper the C-80 steel component immediately after quenching whilst still hand warm. Re-heat to the tempering temperature then soak for one hour per 25 millimetre of total thickness (2 hours minimum) Cool in air. For most applications tempering of C-80 will be between 550-660°C.
HEAT TREATMENT: When heat treating C-80 temperatures, including rate of heating, cooling and soaking times etc. will vary due to factors such as the shape and size of each component. Other considerations during the heat treatment process include the type of furnace, quenching medium and work piece transfer facilities. Please consult your heat treatment provider for full guidance on heat treatment of spring steels.
WELDING: We recommend you contact your welding consumables supplier who should provide you full assistance and information on welding C-80 steel.
GROUND FLAT STOCK: Precision ground flat stock / gauge plate can be produced using C-80 steel. Subject to size suitability and availability of raw material pieces can be produced in approximately 2 to 3 weeks. Standard and non-standard sizes are available.
FORM OF SUPPLY
THICKNESS RANGE: 0.25 MM up to 20.00 MM range as per following divisions and thickness tolerance.
WIDTH RANGE: 5.00 MM up to 1250 MM however we can slit as per customers requirement.
EDGE CONDITION: Mill Edge, Sheared Edge
COIL FORM: Material can be supplied in coil form
SHEET FORM: Material can be supplied in sheet form as well

Usually in coils, thicker strips can also be supplied in cut to length and leveled strips
Coil ID 300-500mm as per mutual agreement with buyer
Coil weight as per mutual understanding with buyer

SURFACE FINISH: Surface finish is bright suitable for electroplating
APPLICATION: Hack-Saws, Stripes Rasp, Engraving Tools, Rivet Die, Spring, Band Saw Blade, Circular Saw Blades, Steel Plate Replication,Masonry And Coal Chisel, Clutch Plate's Agricultural Machine Parts Circular Saws Washers,Driving Part, Horns,Shim,Diaphragm ,Springs, automobile Parts
OTHER EQUIVALENT GRADES
SAE STANDARDS: SAE 1080
AS PER DIN STANDARDS: CK-75 - 80
AS PER EN STANDARDS: EN-42 J
AS PER JAPANESE STANDARD: JIS G 3311 S80C
Trade Information
Free samples are available

AS PER CUSTOMER REQUIREMENT