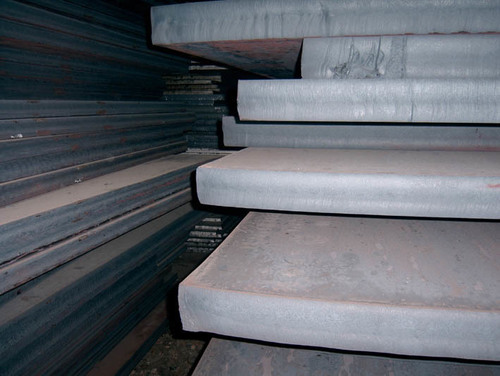 Abrasion Resistant Steel Plate
Product Description
C-62 spring steel stockholders and suppliers, delivering to the whole of the India. This grade is a carbon spring steel with an average carbon content of 0.65%. Asian Steel Corporation are stockholders and suppliers of Cold rolled Annealed spring steel strip, sheet and plate supplied to specification and conforming to BS1449 and BS5770 designations. The strip is supplied in coil and can be cut to your requirements. It is common for C-62 strip to be supplied with a polished finish; this is achieved by fine grinding, abrasive brushing or other processes. With this polished finish the strip can be supplied with dressed edges or sheared edges slit to your required width. For spring applications it is recommended that C-62 Cold rolled Annealed spring steel strip condition be used. C-62 annealed is available as plate, sheet and strip.
CHEMICAL COMPOSITION OF C-62 GRADE (AS PER IS: 2507)

| | |
| --- | --- |
| CARBON | 0.55 - 0.65 % |
| MANGANESE | 0.60 - 0.90 % |
| SILICON | 0.10 - 0.35 % |
| SULPHUR | 0.04 % Max |
| PHOSPHOROUS | 0.04 % Max |
PHYSICAL PROPERTY :
HARDNESS: Generally material in this grade is stocked in fully annealed form with a hardness of 150 - 170 HV / VPN. Also as per customer's request different hardness range such as half-hard or full hard can be achieved.
ANNEALING: Heat the steel slowly to 680-710°C, soak well. Cool slowly in the furnace.
HARDENING: Heat slowly to 820-840°C and allow it to be heated through. Quench in oil, brine or water.
TEMPERING: Temper the C-62 steel component immediately after quenching whilst still hand warm. Re-heat to the tempering temperature then soak for one hour per 25 millimetre of total thickness (2 hours minimum) Cool in air. For most applications tempering of C-62 will be between 550-660°C.
HEAT TREATMENT: For any heat treatment of C consideration should be given to temperatures, including rate of heating, cooling and soaking times etc. which will vary due to factors such as the shape and size of each component. Other considerations during the heat treatment process include the type of furnace, quenching medium and work piece transfer facilities. Please consult your heat treatment provider for full guidance on heat treatment of spring steels.
FORGING: Preheat the component carefully, then raise the temperature to 1100°C for forging. Do not forge below 850°C. After forging cool slowly, preferably in a furnace.
WELDING: We recommend you contact your welding consumables supplier who should provide you full assistance and information on welding C-62 steel.
GROUND FLAT STOCK: Precision ground flat stock / gauge plate can be produced using C-62 steel. Subject to size suitability and availability of raw material pieces can be produced in approximately 2 to 3 weeks. Standard and non-standard sizes are available.
FORM OF SUPPLY :
THICKNESS RANGE: 0.25 MM up to 20.00 MM range as per following divisions and thickness tolerance.
WIDTH RANGE: 5.00 MM up to 1250 MM however we can slit as per customers requirement.
EDGE CONDITION: Mill Edge, Sheared Edge
COIL FORM: Material can be supplied in coil form
SHEET FORM: Material can be supplied in sheet form as well
Usually in coils, thicker strips can also be supplied in cut to length and leveled strips
Coil ID 300-500mm as per mutual agreement with buyer
Coil weight as per mutual understanding with buyer
SURFACE FINISH: Surface finish is bright suitable for electroplating
APPLICATION: Auto components such as Washers, Circlips, Dowel Pins, Carpentry Tools, Hacksaw Blades, Electronic Tools, Clamps, Various types of Springs, Horn Parts, etc
EQUIVALENT GRADES :

SAE STANDARDS: SAE 1060
AS PER DIN STANDARDS: CK-67
AS PER EN STANDARDS: EN-43 D
AS PER JAPANESE STANDARD: JIS G 3311 S60C
Trade Information
Free samples are available

AS PER CUSTOMER REQUIREMENT